• Three Wonderful Styles!
• Two Colors - black and white
• Won't crack, split, or warp
• Durable (lifetime warranty)
• Interchangeable parts
• Maintenance-free
• Meets building codes
• 6" and 8" wide kits for both 36" and 42" long railings.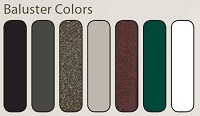 Round Aluminum Balusters -
Available in 7 colors as shown: black, bronze, hammered bronze, clay, rust, green and white.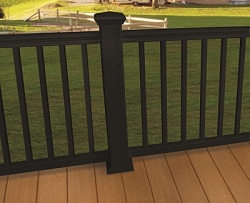 •The structural integrity of the Fx2 composite rail
system requires no aluminum.
•Comes with either Composite, Aluminum, or Glass Balusters!
•High-quality tempered glass for
superior durability and strength.