These classic lines were created with impeccable style and craftsmanship for lasting appeal. Your vision will be transformed into your own personal expression of timeless beauty where everything old is new again.
Simple yet strong, the Dover Mail Post serves as a perfect and warm invitation to retrieve your mail at the end of the drive.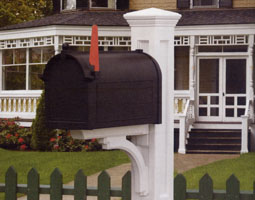 Our Newport Mail Post offers you more than just a functional place to pick up your mail. Their exquisite detailing creates a dramatic difference to any home.
SIGNATURE PLUS MAIL POST
Accommodating Mail Box Sizes: Small, Medium
Number of Boxes: 3

DOVER MAIL POST
Accommodating Mail Box Sizes: Small, Medium
Number of Boxes: 2

LIBERTY MAIL POST
Accommodating Mail Box Sizes: Medium, Large
Number of Boxes: 2

ROCKPORT MAIL POST
Accommodating Mail Box Sizes: Small, Medium
Number of Boxes: 3

NEWPORT MAIL POST
Accommodating Mail Box Sizes: Small, Medium
Number of Boxes: 2